Saturday, October 21, 2017, 8:00 am
The 35th Annual Oracle Run 2017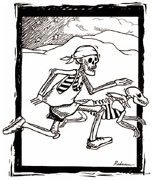 Join us on hilly terrain over rural roads on the north slope of the Santa Catalina Mountains at 4500 ft elevation for either a 10K or a 5K run.
$35 if entry is received by October 6, $45 thereafter. Oracle Run T-shirts designed by a local Oracle artist with no advertising for all entrants. Awards and random prizes to be drawn at the conclusion of the run.
Click here for more information and an Entry Form.