CLICK here for  Entry Form 2017
PRE-REGISTRATION: $25.00 donation to the Oracle Historical Society, $30.00 after April 14 postmark. Fee includes T-shirt, Lunch for 2, Goody Bag to pre-registered or as supplies last, Trophies, (Dash Plaque to the first 100 entries, ) DJ Miller, Door Prizes, 50/50 Drawing, Donuts at parade line-up. 2nd vehicle $10.00 (judging only). Limited to 200 entries. If we pre-register our maximum we will not take any entries on the day of the event.      
ACTIVITIES: Oracle Oaks Festival includes a Flea Market, Craft Fair, Parade & Book Sale at the Oracle Public Library.
REGISTRATION AND CHECK IN: 7:00 – 9:15 am at parade line-up across from Circle K. Parade runs through town at 9:30 to the Pinal County Courthouse Park.
AWARDS: Trophies and Car Show sweatshirts given to the top 20 vehicles. Entries open to all makes & models of cars, trucks, off road & cycles in addition to trophies for Best Engine, Paint, Interior, Best of Show Truck, Best of Show Car and trophies from other organizations. Awards given out at 2:30 pm by the DJ.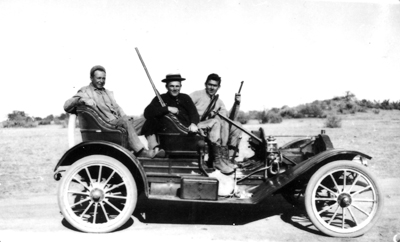 INFORMATION: Mail entry to Oracle Historical Society, POB 10, Oracle, AZ 85623 or drop off at Oracle Car Quest in Oracle. For information call 520-896-9609 and leave a message for Margaret or email m.guyton@msn.com
VENDERS WELCOME $35.00 for 12 x 12 non-food space, $50 for 12 X 12 food space
Anyone wishing to advertise in our goody bags, let us know by April 7.